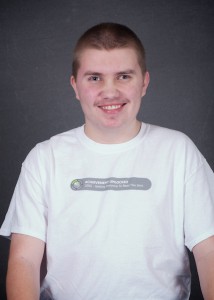 Chrysalis student Kyle Meyer passed away Thursday, October 31, 2013. We will miss him greatly and send our heartfelt sympathy to his family and friends.
A Memorial Service to celebrate the life of Kyle Meyer is scheduled for Thursday November 7 at 1:00PM.
Chrysalis High School
15900 Woodinville-Redmond Rd, Woodinville, WA 98072
Kyle loved Chrysalis because of the wonderful teachers and friends he made. He enjoyed all the latest technology gadgets, used for videotaping, playing music and computer games, and connecting with his friends and family on Facebook. His favorite hobby was Magic The Gathering.
Kyle's inquisitive mind and witty nature will be missed by us all. He always had a kind or joking word for everyone he met.
---
In lieu of flowers, memorial donations may be made to the Kyle Meyer Scholarship Fund, send to:


Chrysalis School
ATTN: Kyle Meyer Scholarship Fund
14241 NE Woodinville Duvall Rd #243
Woodinville, Washington 98072
or online:
---