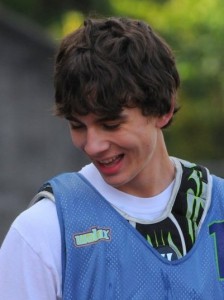 We were greatly saddened that one of our students, Tyler Lucas, died in a tragic car accident on Tuesday February 1st. Tyler was a senior at Chrysalis and was scheduled to graduate in June. He was genuinely interested in people and enjoyed sharing life stories.
Tyler had many friends and close relationships with adults in his life. His teachers at Chrysalis knew him as someone who cared deeply about his family and who worked diligently on his schoolwork to be better prepared for college.  Tyler was his own person. He was a self-confident leader among his peers. He valued thinking out-of- the-box.  One of his "trademarks" as he called them, was to wear bright, flashy colors.
He came to Chrysalis in the spring of his junior year to concentrate on college preparatory courses. The Dominican University in Northern California was his college of choice and he was planning on attending there with a scholarship offer.  Tyler was an avid Lacrosse player and played for Issaquah High School.  He was looking forward to playing Lacrosse in college.
Tyler is in our thoughts everyday as our school community grieves for the loss of this wonderful young man. We send our prayers to his family.
The family would like people to make donations to the Juvenile Diabetes Research Foundation (www.jdrf.org) in lieu of flowers.
---
Tyler Lucas Memorial Services – CHANGE OF VENUE – Facebook Memorial Page
The funeral services for Tyler Lucas venue has changed. The services will be Monday, February 7th at 11:30 AM at The Church of Jesus Christ of Latter-Day Saints in the Duthie Hill Road chapel (1.9 miles East of Pacific Cascade Middle School).
Graveside Service will be Monday, February 7th at 2:00PM at the Hillside Cemetery in Issaquah (located between Mt. Park Avenue and Sunset Way – above the fish hatchery on the hill.)
Please SPREAD THE WORD.
TL-17 DECALS – in process now is the printing of small (1/2 dollar size) decals in purple and gold with "TL17" printed on them. They will first be worn on the helmet of every Stealth player at next Saturday's home game (for non-Lacrosse readers, the Washington Stealth is our local Professional NLL Team). The decals are being made be available to individuals or as teams — to purchase and wear and or place on your car, notebook or whatever in his memory.
Available in approximately a week to receive by mail if purchased in a block of 25 or more decals. Suggested donations with net proceeds go to Juvenile Diabetes Research Foundation (Tyler was a diabetic): $50 for 25 (per team). If you want to order contact Randy Allard at to rnallard@hotmail.com . Individual decals will be available at the Stealth game on the 12th and at other locations later $3/each or $5/two (cash only at the game).