Aumni, David Rollins, wrote a beautiful story about J.C.'s teaching career. Another Alumni, Lindsey Wasson, took all the photos at his party. J.C. we will miss you at Chrysalis. Happy retirement!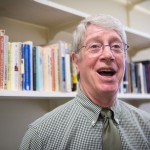 Teacher J.C. Kilmer officially retired from Chrysalis School, closing out a 50 year career in education. Broadly put, Kilmer taught English, history, and social studies. More narrowly however, he covered the great stories of humanity and the fictitious work we use to define our lives, he diagrammed out narrative structure, and even delivered grammatical technique all while maintaining a charisma second to none. He was gracious enough to take a few moments to sit down with me (a former student) on his last day.
After exchanging pleasantries, we got down to it. I asked how he wound up teaching. His response, "What is it that they say, if you have a job, you don't want to feel like you have to go to work. So, I started thinking about things I liked doing, and I like working with people."
His career began in Port Angeles, Washington in 1965. As he put it, "I taught in the Jr. high that I went through." Kilmer remained in Port Angeles either as a full time teacher or part time consultant until 1996, when he began looking for a new job. That job would end up being at a small private school located in Woodinville, Washington.
"I finished my last day of work–on the third Thursday of August, and reported to work at Chrysalis on the very last Tuesday of August."
Having seen two very different schooling systems, I asked what the biggest difference he saw was. Kilmer spoke to class size, "When I started in the public schools at Port Angeles–I had 36 [students] in one class, and 37 in the other. At Chrysalis, over 19 years, the largest class I've had was 11."
Kilmer went on to note, "That's not to put in any fault on anyone that works in a public school, but there's no way with 36 kids, you can be there for them as you can in this situation [At Chrysalis]… If you have an hour of class time and 30 kids, the max you can do is two minutes with each kid. Nope, sorry, you ran over."
After a few moments, the conversation turned to his students at Chrysalis.
"I appreciate being here [Chrysalis], getting to know the students better, and getting to know the whole family–I remember somebody, at a graduation speech one time, made the comment. 'The thing about Chrysalis–is that you know your consulting teacher's top three TV shows, but you don't know your teacher's last name.'"
We both laughed, acknowledging the truth in it. With a grin, he continued on, eventually answering my initial question.
"I think for my students, and not to sound corny, but they are all memorable, and super in their own right–It's funny, you remember kids, but you've lost the timeline."
Kilmer plans on spending his retirement with his grandkids, traveling with his wife, and attempting to knock out more that a few great books. His first stop however, was to meet President Obama as a guest of his son, Derek Kilmer, Congressman, at the White House picnic on Wednesday, June 17th, 2015.
Having completed half a century in education, I asked if he had any advice to any young teachers, or potential ones out there. His response bore the honest simplicity and charisma that helped guide all of his students.
"Just always remember, it's all about the kids."
-David Rollins
Chrysalis Alumni
Class of 2012
On a personal side note J.C., it is unbelievable how impactful you sir have been on my life. Without your teaching, I never would have learned the value in escaping into a good story. A gift, that has truly saved my life uncountable times. The world is unquestionably better off for thousands because you decided to teach. You will be missed in the world of education; that much is without question. Thank you for forcing me to read every single one of those stories, even the bad ones. Thank you for every assignment that I fought you over. And finally, thank you for every conversation where we got distracted by the tangents of what happened last week in football. I guess I eventually learned that last name of yours. I hope retirement treats you well.