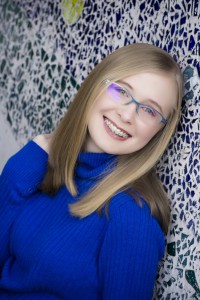 Sometimes you can find Brittany modeling for Margaret's Fashion Photography course, or, sometimes you can find her getting ready for the next drama production; but always you can find Brittany deeply involved in helping others. Not only does she give her time and energy to her pursuits at Chrysalis, she gives a tremendous amount of time to a group she has participated in most of her life – the Girl Scouts.
Recently, Brittany was awarded the Girl Scout Gold Award – the highest honor available in the organization. To receive this honor she had to research a need in the community, prepare and present a plan to address the need, and then take action. Brittany chose to install signs along the Snoqualmie Valley Regional Trail in Carnation that identify native trees and plant life. For her ribbon cutting ceremony, she led a fantastic tour of the area. She volunteers and mentors young girl scouts and even marches in the Carnation Christmas Parade with the Girl Scout Troop dressed as Frosty!
Brittany embodies the traits not just of being a good Girl Scout, but of being a good human being. She is kind, thoughtful, generous of her time and talent and invested in making the world a better place. She will continue to serve her community next year at St. Martin's University in Lacey. She is thinking about either Nursing or Forensics as a major. No matter what she decides, we have no doubt she will continue to change lives for the better.