Autumn's blustery winds and overcast skies haven't darkened student enthusiasm at Chrysalis! We've kicked off the year with some exciting new student opportunities. Follow us on Facebook , Twitter and our blog for updates!
North Campus News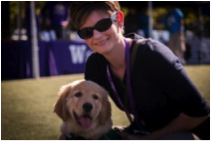 We've added the only high-school-approved, Guide Dog program, in the state of Washington! Currently, seven families are participating and are excited to welcome the puppies in early November. Students will bring their puppy to school for training and guidance from the advisor. After a year of thorough preparation, the dog is paired with its future family. This class strengthens student responsibility and accountability. In early October, the students went to the Microsoft campus to see other families receive their dogs and get a feel for what to expect in November. Watch the video of their experience: http://chrysalisdogblog.tumblr.com/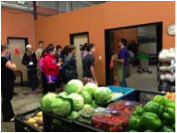 Another new class this year is Service Learning. Participating students leave campus once a week to donate time to various organizations. It's an inspiring opportunity that promotes leadership and community involvement. We are working with organizations such as: Hopelink, American Cancer Society, Friends of Youth, Jubilee Reach, Baby Corner and many more. Check Facebook and our blog for photos and updates.

We've increased our photography classes this year to three days a week. Students travel to different locations to receive onsite guidance and direction to improve their photography skills. Students experience unique opportunities to challenge and hone their skills. A few of the locations they have visited are: Chateau St Michelle, Craven Farms, Cottage Lake Park, Wallace Falls, Mercer Slough, to many a few.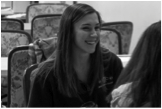 Chrysalis is excited to announce Katie Schecter as our "Featured Student." She will be recognized and given an award at the October Woodinville Chamber of Commerce luncheon. Based on her continuing leadership skills, academic excellence, community service and school pride she earned this distinction. Congratulations Katie, you make us proud!
The Chrysalis chapter of JSA (Junior State of America) is in full swing. During the first presidential debate, our JSA students gathered at a member's house to view and have a spirited discussion! After the lively exchange, they volleyed the pros and cons of what they watched. More JSA gatherings are in the works! Election season is always a time busy time for our JSA debaters as they prepare for the Fall State Convention being held this November 10-11th at the Hyatt Regency in Bellevue.
South Campus News
This Thursday, October 18th from 3:30- 5:00 pm, kicks off our first of four events at the South Campus, celebrating the theme "Around the World in 180 Days." The Elementary students open the series with the "AMERICAS." Enjoy a school performance or browse student artwork and presentations. Come learn about Native Americans, early Colonization and experience their food and culture. All South Campus students and parents are welcome to join the celebration and are encouraged to bring "AMERICA" themed cuisine!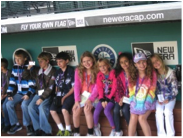 Have you experienced Fridays at the South Campus? This year at the South Campus, we are excited about our first ever Field Trip Class! On Fridays, students and staff venture off campus once a month for a field trip adventure. The remaining three weeks of the month, students are in classes learning, creating, and participating in activities based upon where we go on the field trip. Each month is a new adventure! We toured Safeco Field in September and are looking forward to our field trip to the Woodland Park zoo this coming Friday, October 19.