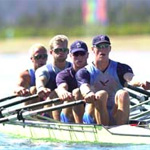 1997 Graduate
Rowing
2000 Sydney Olympic Games
California: Rowed six in the 2003 silver medal Pac-10 Varsity Eight, and the Bronze medal IRA Varsity Eight… Member of 2002 Varsity. . .rowed six in 2002 IRA and Pac-10 champion varsity eight.
National Team: Teamed with Cal senior Jake Wetzel in the U.S. Olympic Quad placing seventh at the 2000 Sydney Olympic Games…finished ninth in the U.S. double scull at the 1999 World Championships in St. Catherines, Canada…finished 12th in the U.S. double at the 1998 World Championships in Cologne, Germany…competed as a sculler in the '97 and '98 Nation's Cup and the '96 and '97 Jr. World Championships.
Personal: Undeclared major…played football and rowed in high school…born in 1979 in Seattle, WA.
(Retrieved from http://www.calbears.com/sports/m-crew/mtt/mcgowan_ian00.html)